Georgia is a small country with enormous growth potential. The geographically favourable location, the very hospitable immigration policy, the pleasant climate, a fairly good infrastructure, a very humane tax burden for citizens and immigrants, as well as Georgia's good cuisine are prompting more and more people from Europe and especially from Germany to take a closer look at this country.

The author spent five weeks in the country in April and May 2021 and only had to put on a mask during the train ride from Tbilisi to Batumi – all in all, ergo, a very likeable travel destination. By the way, this has completely changed in August 2022, you rarely see a face mask anymore. Now the author is coming back to Batumi after 18 months in Africa and is quite curious to see how the city has changed. Of course, the weather will not be quite as sparklingly warm as in West Africa, but everything else promises a very dynamic change in this metropolis on the Black Sea.
Back to the author's last visit in April and May 2021: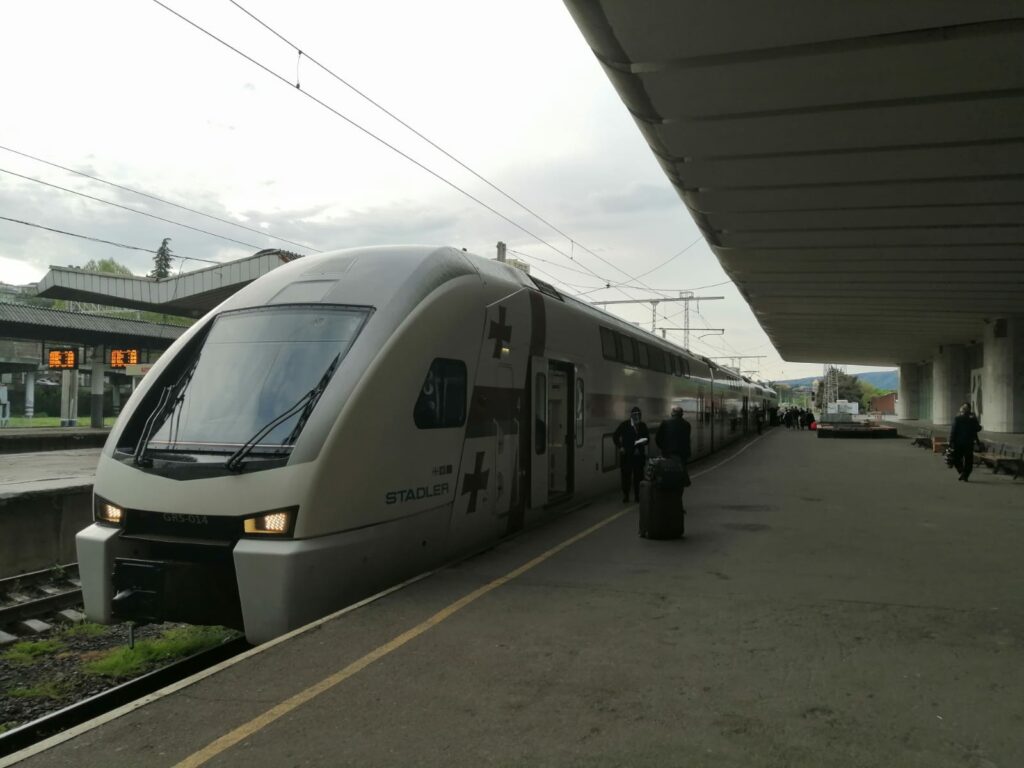 The Georgian Railway has modernised, the romantic Soviet wagons from the era of the Trans-Siberian Railway gave way to modern Stadler double-decker trains from Switzerland. Not exactly progress, I think. You don't necessarily sit comfortably during the five-hour train journey Tbilisi – Batumi. In addition, the passenger cannot freely choose a seat, but is assigned one. If you like to look out of the window at the very varied mountain landscape, you have to be really lucky to get a window seat facing the direction of travel. Not very customer-friendly if you have the misfortune to sit against the direction of travel on the aisle. There is no wifi on board and no power sockets.

COMMUNICATION NOT ALWAYS EASY AND THE CHARACTERS ARE VERY SPECIAL
Not all people in the country speak English, but with hands and feet or sometimes the internet, communication works quite well. Shopping is more difficult if you are curious about the contents. And by no means every salesperson speaks or understands English. Recently, the author wanted to find out whether the cooking oil in a bottle labelled in Russian was olive oil. The attempt to get the shop staff to make a clear statement ended miserably with them leaving the shop without this obscure oil. Fortunately, this was an exception. With a little good will and patience, it is usually possible to find out the ingredients. Younger Georgians in particular speak some English, some even excellent English.
IS GEORGIA BECOMING A COUNTRY OF IMMIGRATION FOR EUROPEANS?
Apparently, Georgia is becoming a serious alternative to classic tourist destinations for more and more Germans, Austrians and other Europeans, and this Caucasian pearl is even gaining enormously in importance as an emigration country. Not only the liberal visa and entry policies speak for Georgia. The country is also one of the world's top destinations in this respect in terms of taxation, without having the same negative image as Panama, for example.
MUCH CHEAPER ENERGY AND COST OF LIVING IN GEORGIA
The fairly low energy and living costs are among the other advantages of this small country. In May 2021, there were the following cost breakdown examples:
– One KW/h of electricity cost about €0.06 in spring 2021.
– Petrol and diesel were below one € per litre.
– Food prices were at a pleasantly low level for us € Europeans:
– 1 kilo of apples was available for 2 Lari, the equivalent of about 0.50€.
– 1 kg of lemons or bananas cost 4 Lari, about 1 €.
– Oranges or pears cost a little over 1 EURO.
– Vegetables were also usually much cheaper than in Germany. For example, 15 months ago, a kg of sweet and very tasty Georgian cherry tomatoes cost between 4 and 4.50 Lari, and onions usually cost 2 Lari per kg over the counter.
The cost of living in Georgia has also risen considerably, as of autumn 2022:
– One KW/h of electricity now costs about 0.08€.
– Petrol and diesel are 4 Lari and 4.70 Lari (1.20€ and 1.35€) respectively.
– Food prices for us €-Europeans are no longer at the favourable level of 2021, but are still significantly cheaper than in Germany or Austria and Switzerland:
– 1 kilo of apples costs from 4 lari, the equivalent of about 1.25€.
– 1 kilo of lemons or bananas cost 5 lari, about 1.40 €.
– Oranges or pears currently cost from 5 lari per kg….
– Vegetables are also still cheaper than in Germany. For example, a kg of the sweet and very tasty Georgian cherry tomatoes now costs between 5 and 5.50 lari, onions usually go for 3 lari per kg over the counter.

WAGES & SALARIES IN GEORGIA ARE AT A LOW LEVEL IN INTERNATIONAL COMPARISON, MAKING THE COUNTRY COMPETITIVE
Wage and salary levels are low. Employees in supermarkets may earn the equivalent of €150 per month, similar to construction workers or unskilled labour. A teacher receives about 230€ per month, similar for other academics. Who drives all those Mercedes, Lexus or Audi luxury cars in the big cities? One could get the idea that all Georgians are wealthy. The 'big money' in Georgia seems to be earned mainly by the self-employed.

CLIMATIC AND GEOGRAPHICAL ATTRACTIVENESS OF THE BLACK SEA REGION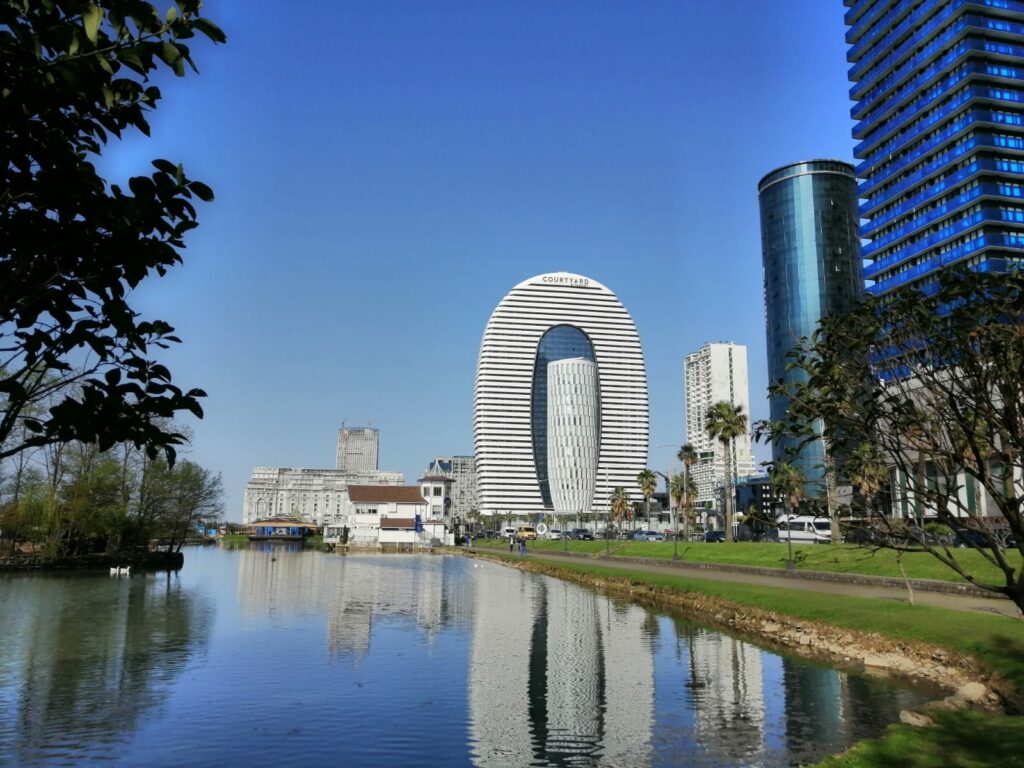 The small but extremely diverse country on the eastern Black Sea coast, still largely spared the destructive excesses of modern tourism, welcomes people from all countries with a warm "მოგესალმებით უცხო", "welcome stranger". In May 2021, only a few foreigners were travelling in the country, but I can well imagine that soon a walk along the endlessly long and very well-kept promenade of the Black Sea metropolis of Batumi will be eventful. Once again, it is noticeable in a positive way that the Georgians throw their rubbish into the rubbish bins and not onto the street. Different ethnic groups live together peacefully here; I have not noticed any conflicts between population groups so far. The people are very friendly, which is also noticeable.

GEORGIA'S UNIQUENESS REMAINS TO THIS DAY
Above all, Georgia has been able to preserve its authentic character to this day. Anyone who comes to this country (with an area roughly the size of Bavaria) will quickly feel at home, miss it, but never forget it. A voyage of discovery through Georgia is a great pleasure. For hikers, skiers and mountaineers it is pure paradise, mountain bikers and cyclists are in "their" paradise here. Motorcyclists can enjoy a unique mountain landscape here, it is an Eldorado for this guild! Zoologists, botanists and ornithologists are also thrilled by the partly endemic biodiversity and archaeologists are spoilt for choice as to which of the countless historical sites they should visit first.
THE SECRET OF GEORGIA'S BEAUTY IS TO BE FOUND IN THE LEGENDS:
When God called all the people of the world to Himself, the Georgians came last. The Lord asked the reason for the delay. The Georgians replied that they had stopped briefly on the way to drink and raise their glasses to God to praise him. God found this explanation so beautiful that he gave the Georgians a piece of land that he had originally kept for himself.
The visit to Georgia confirms that the legend is based on a true story: Georgia is a natural paradise. Thanks to the majestic Great Caucasus, the natural border between Europe and Asia, Georgia has long been an important connecting hub. Keyword 'Chinese Silk Road'.
In this mystical country, one can fully experience both the radiant splendour of the East and the elegance of the West. The traditions of West and East come together in Georgia to form a culture that has no equal in the entire world…
GEORGIAN LAWYER DINA KHUKHUNAISHVILI WAS A NATIONAL SOCCER PLAYER AND EXPLAINS HOW GEORGIANS TICK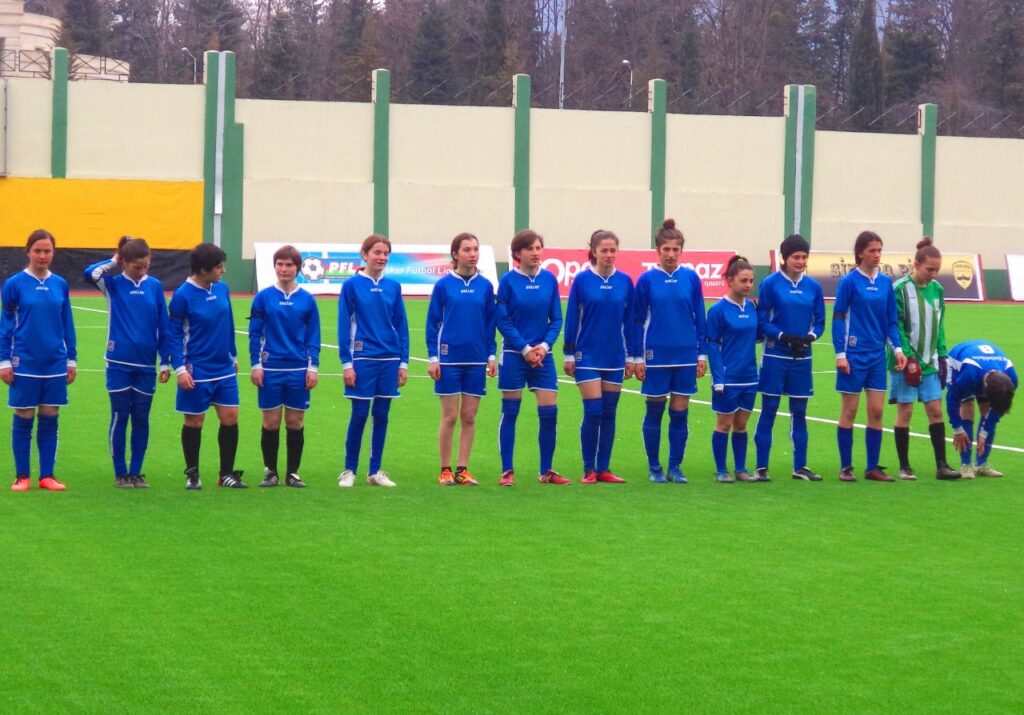 That's what we're trying to find out. Today, an ambitious, formerly active Georgian national football player and professional athlete Dina Khukhunaishvili agrees to give information about her country and her life.
Oliver, www.bellacoola.de:
"Hello Dina, please tell us who the lawyer and former national football player and successful rugby athlete Ms Khukhunaishvili really is?"
Dina (laughing):
"I'm 23 and I still have a lot to do. I had a really happy childhood and my parents allowed me to do everything I wanted to do. I wanted to and was allowed to play football, I was also allowed to play rugby and ride my bike, I was basically allowed to live the way I wanted to. But my parents also made sure that I went to school well. One day I was tired of playing football and wanted to switch to rugby. My parents just said, 'Dina, what are you going to do now, hmm?'

Then I thought I'd stop teaching music completely, I really wanted to live for football and rugby instead! No sooner said than done, hhhh. My parents went along with all my shenanigans and let me do it. When I was 18, I actually managed to pass my A-levels with a very good grade average. Afterwards I studied law in Tbilisi and was awarded the degree 'Bachelor in Law', even as the best of 400 fellow students. My family was very proud, of course, and still I played a bit of football and rugby on the side."
Oliver:
"Wow. Dina, when I look at your life now, you are really very unusual, exceptional sporting talent and an alert mind! So how did your football and rugby career progress?"
Dina:
"Life at school and university was already very exciting. That's how I discovered my love for football and also playing rugby and my teachers also encouraged me. They saw that I really had some talent there and I could even dribble 250-300 times and overtake my male competitors. That's how I ended up playing for the Georgian national football team for a few years. However, the pay is so bad that unfortunately I could not afford a career as a female football player, so the sport unfortunately became only a hobby due to the lack of funds. In our country, however, even as a lawyer, the career opportunities are not particularly pronounced. After my studies, I was an au pair in Germany and was able to improve my German considerably.
In 2021 and 2022 I worked in a call centre in Batumi and earned about 1500 Lari (about 500€) with my job, but only because I speak German. Isn't it sad that I would only earn half as much as a lawyer as I do as a call centre employee? In a few days I will travel to Berlin in Germany and successfully complete my studies there with a scholarship. After that, however, I will go back to Georgia. Home remains home!"
"HOW MUCH DOES A LAWYER EARN IN GEORGIA?"
Dina:
"With a 'Bachelor in Law' I would only earn about 1000 lari a month, which is the equivalent of about €350. You have to know that salaries in our country are very low. For example, a shop assistant who works five days a week only earns about 400 lari a month which is the equivalent of about €130."
Oliver:
"I can see Dina you want to do a lot more with your life and especially get involved with Georgia, right?"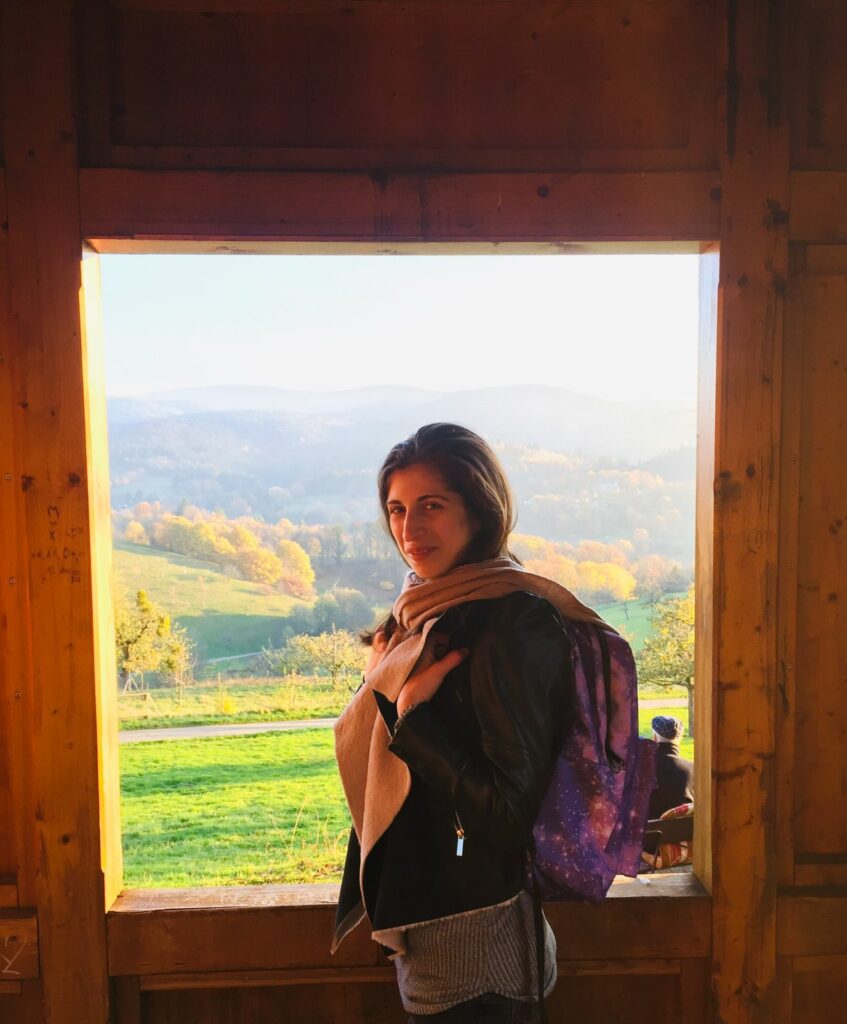 Dina:
"Yes, that's right …., I want to study in Germany first and that is the 'Master's programme in European Law'."
Oliver:
"As a lawyer with the academic degree 'Master of European Law' you probably have much better career opportunities, right? What do you want to do then, Dina?"
Dina:
"After graduating in Germany, I actually want to go back to Georgia to help my country."
Oliver:
"That sounds really good, Dina! How would you like to support Georgia?"
Dina:
"I think I can pass on this experience of two cultures in Georgia and that I was able to learn from Europe is very important to me today. I was already an au pair in Germany, I saw and experienced a lot there. I would like to stop the rural exodus and help more people stay in the small villages and towns. This means that we have to encourage companies to invest in the village landscape. This would allow people to stay in their familiar surroundings and still bring prosperity to the countryside. Also, people will then no longer be separated from their families and their village structures."
GEORGIA – CITIES AND COUNTRYSIDE BEGUILE WITH UNIQUE FLAIR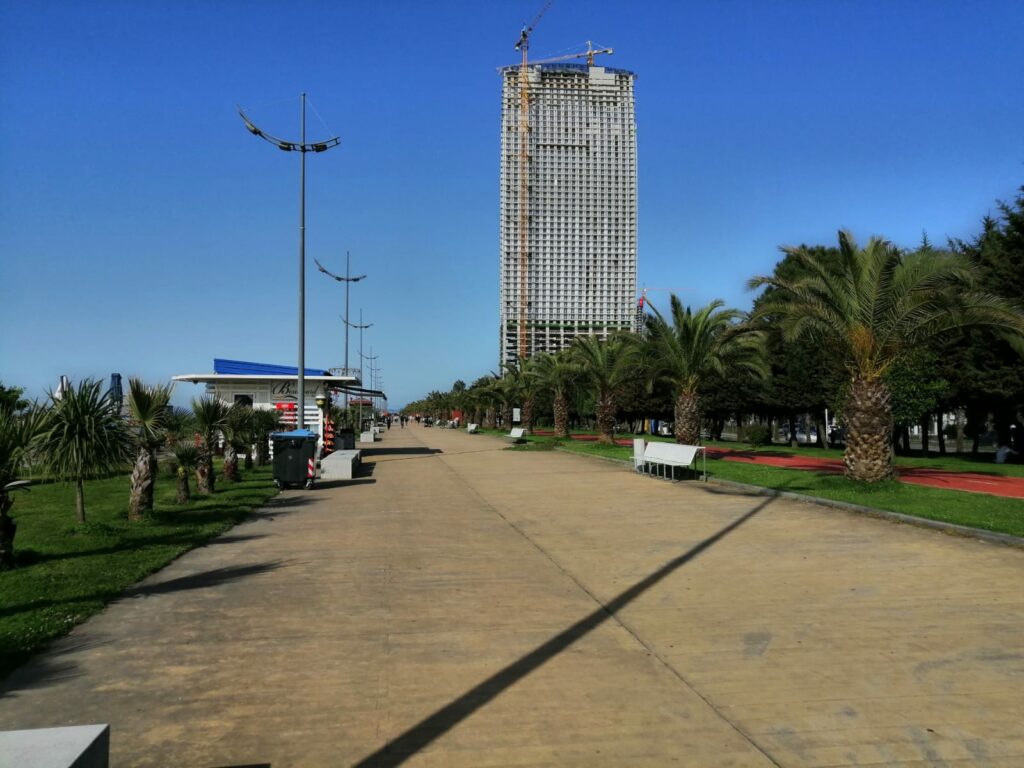 Dina continues: "This is how you can really create a Georgia that is alive and well organised. Also, I really have the ambition to make Georgia known internationally. That's why I'm very happy that we're doing this interview right now and that maybe people from Germany Austria or Switzerland will become aware of Georgia for once and take a completely different look at this small but really underestimated country."

"HOW DO YOU IMAGINE GEORGIA IN 2030?"
Dina:
"I am convinced that Georgia will look completely different in 10 years. The country is developing dynamically, you can see it here in Batumi, how much the face of this big city on the Black Sea coast has changed. After all, a lot has been invested, we have a wonderful 20 km-long beach promenade, ideal terrain for cyclists, sportsmen and outdoor fans. Of course, you can also swim here.
However, I would like to help people rediscover their love for the village and stay in the country. It doesn't always have to be Tbilisi or Batumi. Our villages should also become more populated and beautiful. Even in a small town you can feel good, especially if there are jobs and family. In village areas, you can also grow food and eat healthy.
Tourism will develop even more. I like the travel industry and I can well imagine myself applying to the Ministry of Tourism after my Master's degree and testing and checking many functions, because tourism also plays a leading role for our country in my eyes in 2030."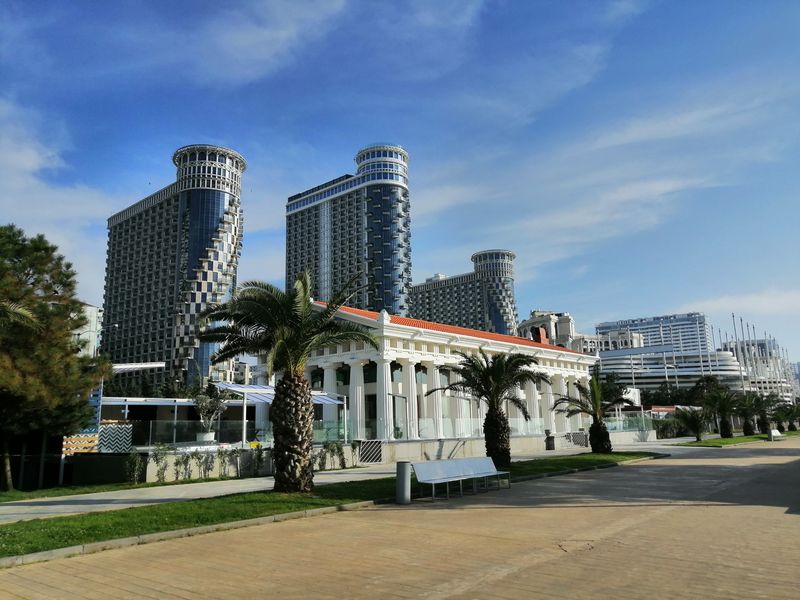 Dina continues her vision: "In Georgia in 2030, we offer fantastic opportunities for athletes, skiers and active people, but also for lazy people who like to lie on the beach for a few hours. Moreover, we Georgians are very hospitable and we love people and show this by a 'warm welcome'. If a stranger has the pleasure of being invited to a Georgian family's home, he or she will see for once how warm people are in our country. That makes me want to say to the whole world, "come to our beautiful country, get to know it and love it."

Oliver:
"Dina, what else would you like to tell the readers?"
Dina:
"First of all, I am very happy that a German journalist is interested in our small country. Georgia is usually overlooked, although there is really a lot to see and discover here: we have mountains that are over 5000 m high and mountain hikers, skiers and also mountain bikers or motorbike enthusiasts feel more than comfortable there. On the other hand, we have a fantastic Black Sea coast that invites thousands to jump into the fresh waters every day, especially in summer. In the winter you can do winter sports in rarely visited mountain villages. Our country offers sooo much, at any time!"

CULINARY DIVERSITY AND OWN FOOD DESIGN ARE AMONG GEORGIA'S OTHER ASSETS
Dina adds, "For in terms of food, Georgia has developed into a particularly delicious menu. We have excellent dishes that you can't find anywhere else on the planet either. I would like to mention, for example, the 'Georgian salad with nuts', very tasty and healthy."
The laundry hangs to dry at a height of 15 metres. But how does it get back to the owners? I'll get to the bottom of that mystery later.
Oliver:
"Your parting words at the end of our exciting interview:"
Dina:
"Dear visitors, stroll through Batumi, marvel at unusual buildings and rituals. Enjoy Georgian cuisine and consume with relish what a Georgian cook has conjured up. I would really like to invite all people to discover Georgia personally. There is a contrasting diversity of life in our country, but we are happy when strangers take an interest in us."
Oliver:
"Thank you very much for the interview and good luck in the future for you and Georgia."

Press release written by
BellaCoola Film Production UG
Ms Isatou Camara and Mr Oliver Gaebe
Eythstr. 10
D-51103 Cologne
Germany
Phone: +491796004547
web: http://www.bellacoola.de
email: bellacoola-liefert (@) die-besten-bilder.de

Bellacoola Film Produktion UG has become known as an experienced film production company with excellent references. Tourism and travel is one of the main focuses. Since a few years a department "Economy" has been added and it deals with the reasons of the significantly fallen competitiveness of the German industry. You can use this press release – also in changed or shortened form – with source link to our homepage on your website free of charge.